A samosa is a tasty fried or baked dish, very popular from north of Africa to China. If you ever wondered how to make some at home, follow this recipe of chicken samosa.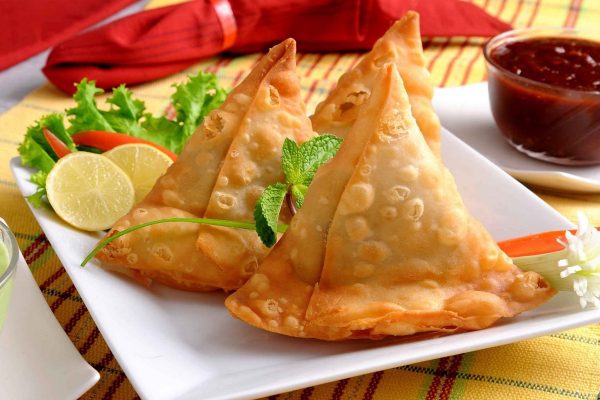 Temps de Préparation

15

minutes
Temps de Cuisson

25

minutes
Temps de Préparation

15

minutes

Temps de Cuisson

25

minutes
Mix the chicken and all dry spices in a sauce pan.Cook covered until the chicken become light brown. With a wooden spoon, slightly mash the chicken. Keep aside.

Heat a non-stick pan, add oil. When hot, add onions with salt and saute until translucent.

Add green chili,ginger garlic paste to the onions and saute until onions turns brown.

Add the chicken to the onions and stir fry for a few minutes.

Taste the preparation, and add more spices if needed.

Add cilantro to it, let cook for one more minute. Keep aside.
In a bowl, mix flour, salt and water, until the dough become soft and smooth. Knead for a few minutes. Make 8 balls out of it.

Take one, and place it on a clean surface. Sprinkle some flour on the dough, and roll it to a thin round shape.

Repeat the operation with every ball.

Slightly warm up the dough for a few seconds in a non-stick pan over low heat, then remove from the pan.

Mix 1tbsp of flour with 1 1/2tbsp of water to make a paste.

Cute the warm dough in the middle.

Make cone shape with one of the half and seal edges with flour paste.

Add the chicken inside and close the cone.
Beat an egg and spread it on the unfried chicken samosa.

Heat oil in a frying pan, the chicken samosa needs to be submerged by oil.

Fry the chicken samosa until they turn golden brown.

Put the crispy samosa on kitchen paper towel.

Serve the warm chicken samosa with sauces.